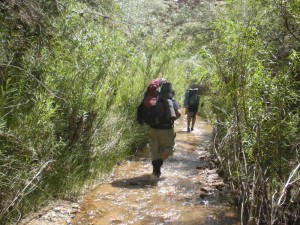 A psychological diagnosis does not have to define the course of someone's life. ADHD has particularly manageable symptoms, and when treated properly, does not have to get in the way of an individual's success. That said, it is crucial to address mental health and developmental issues as they arise. We have seen the cost of delaying treatment or avoiding one's issues; it is vastly wiser to handle problems head-on, as early as possible.
There are a variety of treatment options available for individuals who have ADHD. Every individual is different; depending on your child's age and severity of their symptoms, you may be considering medication alone, medication and behavioral therapy, or in more severe cases, residential treatment. One type of treatment program that has proven extremely effective in helping teens and young adults with ADHD is wilderness therapy. The effectiveness of wilderness therapy in helping these individuals is due to the therapeutic wilderness setting, adventure activities, and positive peer relationships.
Wilderness Setting
Living in the wilderness is an unfamiliar environment and experience for many teens and young adults with ADHD. This allows them to leave the pressure and stress of their everyday lives behind and practice new ways of handling the ADHD. Wilderness therapy programs move with the rhythms of the natural world, which is soothing to humans. According to Taniguchi, Widmer, Duerden, & Draper (2009): "the mere presence of nature and vegetation has significant positive effects on children's:
engagement in creative play
The wilderness setting also exposes teens to natural consequences. Recognizing and experiencing the natural consequences aids in the development of intrinsic motivation. Additionally, outdoor living can facilitate the understanding of their actions and resulting consequences in teens and young adults with ADHD. For example, if a student chooses to not build a shelter when the staff tell them it is going to rain, the consequence is they, and their belongings, get wet.
Adventure Activities
Some wilderness therapy programs incorporate adventure therapy activities. This allows for a more comprehensive assessment, as multiple settings and a variety of challenges are utilized. Through this approach, students student's ways of coping in challenges, needs, and deficits become clear more quickly. Adventure therapy utilizes a variety of novel environments to push teens and young adults to learn more effective coping skills, executive function skills, and social skills; these are skills that many teens and young adults with ADHD need to improve.
Incorporating adventure therapy activities allows for In Vivo therapy. In Vivo therapy offers the ability for students with ADHD to operate and process what they are learning "in the moment." The In Vivo method allows them to learn more experientially. This helps to teach individuals with attention and executive functioning deficits what they do not typically understand in a way that makes it more "normal," and less like therapy.
Aside from an increased buy-in to participate in therapy due to the variety of appealing activities, the adventure therapy activities provide students with opportunities to confront their challenges. This also helps teens and young adults with ADHD by utilizing overwhelming mastery experiences to increase self efficacy. Self efficacy is the belief in oneself to overcome adversity/difficulties in life. This is vital, as research has shown self efficacy as one of the most influential predictors of behavioral change. (Wells, Widmer, & McCoy 2004)
The more repetitive a treatment program can be with developing mastery of various skills, the better. These mentally, emotionally, and physically challenging experiences have been seen through research to influence teens and young adults with ADHD's belief that they can achieve difficult things. Individuals with ADHD can incorporate this belief into different domains of life: classroom, peers, family, etc.
Positive Peer Relationships
Since many individuals with ADHD have trouble forming meaningful peer relationships and struggle with their social skill deficits, the therapeutic group setting of wilderness therapy programs is extremely critical for treatment.
Wilderness therapy programs offer individuals with ADHD the opportunity to form both peer bonds with others and mentor/mentee relationships with wilderness therapy staff. Since wilderness therapy takes place in a group setting, students have the opportunity to learn from others who are overcoming the same obstacles through wilderness therapy. The group setting allows group development processes to facilitate learning.
To find out more about how to help your child, download our free white paper, Help for ADHD in Teens and Young adults
Resources
Taniguchi, Widmer, M.A., Duerden, and Draper (2009). "The attributes of effective field staff in wilderness programs: Changing youths' perspectives of being "cool"", Therapeutic Recreation Journal, Edition 1, Volume 43, Issue 1, Pages 11-26, 2009.
Well, M.S., Widmer, M.A., & McCoy, J.K. (2004). Grubs and grasshoppers: Challenge-based recreation and the collective efficacy of families with at-risk youth. Family Relations, 53(3), 326-333.