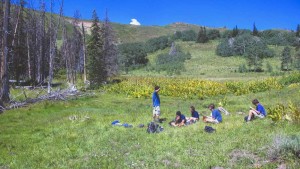 If you have decided that residential treatment for anxiety or depression would be beneficial for your child in the healing process, wilderness therapy is an effective option to assist teens and young adults. Understanding where to begin and how to differentiate a credible, reputable program can be overwhelming.
There are several criteria that credible wilderness therapy programs should implement for your child to receive the best care. These aspects set the best wilderness therapy programs apart from other residential wilderness treatment programs. Look for the following when researching wilderness therapy programs to help with depression or anxiety in teens and young adults: 
1. Licensure/Accreditations
Regulating bodies that visit the program can provide insight into the safety of the program. Make sure the program you select is licensed with the state in which it resides. Residential wilderness programs often facilitate the acquiring of academic credits for their participants. To assist the credits in transferring to future schools, the organization should be accredited by an academic organization 
To maintain the integrity of the wilderness lands they use, reputable organizations should partner with applicable regulatory and accrediting outdoor ethics organizations, such as Leave No Trace, that focus on teaching individuals how to enjoy the outdoors responsibly, with the lowest environmental impact possible.
2. Medical Care
Credible wilderness therapy programs conduct a medical examination upon admission, and provide regular medical check-ups to monitor participants' well-being throughout their treatment for anxiety or depression. Participants should have easy access to appropriate medical care such as EMT's or Wilderness First Responders.
3. Formal Evaluation
Credible wilderness therapy programs designed to treat depression and anxiety in teens and young adults will evaluate their students' individual needs upon admission, and throughout treatment. The response to treatment and progress should be monitored and discussed with parents on a regular basis.
4. Adequate, Expert Supervision
The wilderness therapy field guides should operate under the supervision of a licensed mental health professional, such as a licensed psychologist, licensed family therapist, licensed mental health counselor, or a licensed clinical social worker. Field guides and therapists should engage in regular training to develop their ability to help those struggling with anxiety, depression or other mental illnesses.
5. Family Involvement
While your child is away from you having information communicated to you regularly and your involvement is essential. Wilderness therapy programs should work with families to increase understanding of their child's challenges, goals, and treatment path.
When teens and young adults are struggling with anxiety and depression the whole family is affected.  Reputable wilderness therapy programs involve the family in the healing process. At times, it may be appropriate for just parents and the child struggling with anxiety or depression to mainly work together. Other times, it will be important to include siblings. Having the option for family to be involved allows for healing of the family to begin. 
6. Specialized Training
Specialized training can assist your child in receiving the best level of care. This includes all treatment professionals and staff being trained and certified in CPR and first aid, mentored teens and young adults, and safely facilitating adventure activities. Therapists should be currently licensed or certified to practice mental health counseling and trained in the areas they are treating  (i.e. treatment for anxiety or depression, family therapy, learning disabilities, substance abuse, etc.)
7. Individualized Treatment Plans
As each child's personalities, needs and strengths are unique, reputable wilderness therapy programs will individualize treatment plans based on personal needs, strengths, goals, and struggles. The individualized plans should be overseen by licensed or certified therapists.
8. Aftercare and Transitional Support
Progress doesn't stop the day a student leaves treatment. Therapists should ensure that the student has established supports to assist in a smoother transition back into the "real world." In addition, the families and the students should receive recommendations on the support and level of aftercare support necessary to continue the progress made during treatment for anxiety or depression. 
9. Clinical Model
While every student should receive an individualized treatment plan, a reputable wilderness therapy program should have a clearly defined clinical model that is based on mental health field best practices. Models can range from relational to behavioral models. Learning more about the program's model and guiding philosophy can help you know if it aligns with your values. 
Conclusion
Early recognition of the signs of depression and anxiety in teens and young adults, and the right level of treatment are the best ways to help. At times that means seeking help in a residential setting. Residential wilderness therapy or wilderness adventure therapy programs are especially effective in helping with depression and anxiety in teens and young adults.
To learn more about how to help your child with depression or anxiety, download our white paper, Depression and Anxiety in Teens and Young Adults below.