It's no mistake that we have chosen the beautiful state of Utah for our wilderness therapy program. The many locations in which we operate, engaging in a multitude of adventure activities year round, gives our clients the best experiences possible. These novel environments in our outdoor wilderness program allow students to be immersed in the many incredible landscapes that Utah has to offer.  At each of the 15 areas we visit, students will engage in an adventure itinerary such as rock climbing, mountain biking canyoneering, backpacking, and more.  These activities challenge students to push beyond their perceived boundaries and accomplish more than they ever thought possible. These adventure therapy itineraries show them that, in a very practical way, they can do hard things.
Here are a few of our many favorite summer areas!
La Sal Mountains
Stretching to upwards of 12,000 feet, the La Sal mountains are a cool paradise surrounded by miles and miles of slick rock and sandy desert. The La Sals were named by the Spanish, meaning "The Salt Mountains" due to the snow on the peaks which lasts all year long, despite the up to 100-degree temperatures in the nearby desert below. Thankfully, the La Sals remain about 20 degrees cooler than the surrounding Moab area and thus are perfect for our students to experience high alpine, backcountry hiking during the summer months. Students practice navigation skills as they bushwhack through large pine and aspen forests and hike up to the mountain peaks. They also utilize mindfulness and meditation while stopping for quiet moments of reflection while enjoying the views of the endless vistas before them.
Escalante
Escalante is located in South Central Utah and is a rugged and breathtaking landscape that is made up of large slick rock domes, canyons, and pinnacles carved out by the Escalante River. Smooth and twisting sandstone slot canyons lead out into sandy washes that are dabbled with cottonwood trees and tamarisk. Students backpack through the dunes, slick rock ridges and slot canyons, enjoy the cooling waters of the Escalate River. Here our students participate in adventure therapy while learning how to precisely navigate through desert landscapes and discover the natural processes of wind and water erosion which create their unique surroundings. Students also see petroglyphs and other rock carvings which have been preserved for thousands of years as they hike through these slot canyons and rappel down the canyon walls. Rappelling allows students to build trust in themselves as well as to overcome fears. This helps them to build self-confidence, gain self-efficacy and to become empowered.

Ouray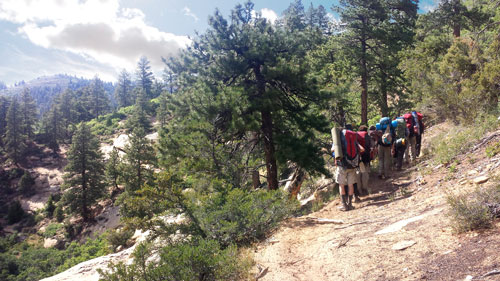 The Book Cliffs of Eastern Utah are some of the most remote mountains in the lower 48. As sandstone cliffs climb up from the dry and sandy desert, Ouray presents itself in wide box canyons full of lush green meadows, pristine rivers, and beautiful pine forests. Students backpack through these canyons, utilizing landmark recognition and concise communication in order to accomplish their "thru-hike" goal. A thru-hike is when two groups start at opposite ends of an operating area and meet in the middle to switch van keys, thus leaving from a completely different location than where they started. This is one of Aspiro's most challenging and rewarding backpacking itineraries due to the natural structure that requires groups to keep moving forward. Students gain strength and stamina, and practice various camping and survival skills during this time, leaving them with a great sense of accomplishment.
Park City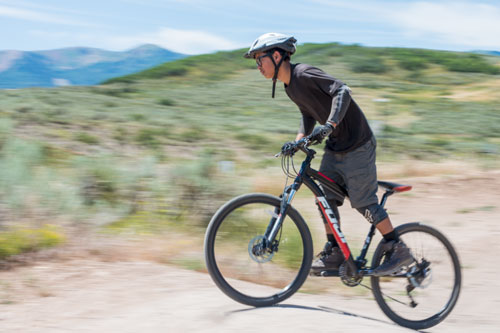 Park City, Utah is a favorite destination for people around the world year round. In the summer it is home to some of the best mountain biking trails in the country. Our students experience these breathtaking high desert mountains while learning technical riding and bike maintenance. Our wilderness guides teach foundational skills and work each day with students in order to build confidence on their bikes by challenging them with more difficult and longer trails each day. For many of our students, who are working through various difficulties such as anxiety, inattention, substance abuse, and more, mountain biking is a healthy and rewarding experience as they seek what we call "flow," or an optimal experience of challenge and ability. When cruising down a switchback trail on a bike, all a rider thinks about is what is in front of him or her. Immediate feedback is received from both the bike and the earth, as well as a mix of a rush of adrenaline and a feeling of contentment, as a student learns to truly focus and be present in the moment. These mindful experiences help decrease anxiety and lead to overall well-being.