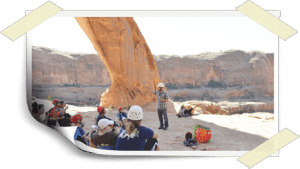 While there are a plethora of "wilderness experience programs," wilderness camps, and other troubled teen programs out there that claim to be able to provide help for troubled teens, there are characteristics that make a wilderness therapy program a truly therapeutic experience.
There are several characteristics and processes that a credible wilderness therapy program should implement to ensure that they are following best practices within the industry. These characteristics are what set wilderness therapy programs apart from other troubled teen programs and make them effective at providing help for troubled teens.
1. 

Licensure/Accreditations

A reputable wilderness therapy program should be licensed by the state. To implement and maintain clinical best practices, the program should partner with regulatory organizations that are dedicated to providing the highest quality of services.

To maintain the integrity of the wilderness lands they use, reputable organizations should partner with applicable regulatory and accrediting outdoor ethics organizations that focus on teaching individuals how to enjoy the outdoors responsibly, with the lowest environmental impact possible.

If the organization offers academic credits to their participants, the wilderness therapy program should be accredited by an academic organization to ensure that the credits are transferable.
2. Medical Care
A credible wilderness therapy program conducts a medical examination upon admission, and routine medical check-ups to monitor participants' well-being. There should also be access to appropriate medical care when participants are in the field; EMT's or Wilderness First Responders should be available during these times.
3. Formal Evaluation
Unlike other troubled teen programs, a credible wilderness therapy program should evaluate their client's individual needs upon admission; routine formal evaluations of the effectiveness of the treatment path should also be conducted periodically to ensure that the treatment is effective.
4. Adequate, Expert Supervision
The wilderness therapy field guides should operate under the supervision of a licensed mental health professional, such as a licensed psychologist, licensed family therapist, licensed mental health counselor, or a licensed clinical social worker, . In addition, wilderness therapy program participants should have individual or group therapy sessions with a licensed mental health professional.
5. Family Involvement
Addressing the family dynamic is a vital part of offering help for troubled teens. Unlike many troubled teen programs, reputable wilderness therapy program involves the family in the healing process since families are vital to the process of change that takes place. With both student and parents on the same path, the entire family begins to heal. The wilderness therapy program should work with the family to help them understand each participant's issues, goals, and treatment path.
6. Specialized Training
All wilderness therapy field guides should be trained and certified in CPR and first aid. Wilderness therapy field guides should also be trained in mentoring the adolescents, teens, and young adults that come through the program. In addition, therapists should be trained in their area of expertise or specialty (i.e. substance abuse treatment, depression and anxiety treatment, family therapy. etc.)
7. Individualized Treatment Plans
At a reputable wilderness therapy program, all clients should receive an individualized treatment plan based on their personal needs, strengths, goals, and issues. The individualized plans should be carefully monitored by licensed therapeutic staff members.
8. Aftercare and Transitional Support
Progress doesn't stop the day a client leaves treatment. As such, therapeutic staff members should ensure that the teen has established supports to assist in a smoother transition back into the "real world." In addition, the families and the clients should receive recommendations on the support and level of aftercare support necessary to continue the progress made during treatment. This is vital to providing lasting help for troubled teens.
9. Clinical Model
While every teen should receive an individualized treatment plan, a reputable wilderness therapy program should have a clearly defined clinical model that is based on mental health field best practices.
Conclusion
Being there for your child through the difficult teenage years is a key part of helping your teen transition into a happy, well-adjusted adult. While no parent wants to send their child away, sometimes doing the right thing isn't always the easy thing. In order to provide help for troubled teens, it is important to select a treatment program that is reputable, credible, and effective in addressing teens' and young adults' individual issues.
Download our free whitepaper, Boot Camp for Teens: Is There a More Effective Solution?, to learn more about healthy, effective solutions to help teenagers and young adults through their challenges.